Purcellville, Va. — Loudoun Valley High School junior Carly Snyder claimed the all-around title at the Dulles District championship at Park View High School on January 30, scoring a 36.925 while leading the Vikings to the team title.
Snyder won the vault (9.525), bars (9.325), and floor (9.500), while Loudoun Valley teammate Avery Goodlin and Heritage senior Riley Carroll tied for first on the beam (9.150).
Carroll used her win on the beam and second place finish on the floor to finish runner up in the all-around (35.900). Lightridge High School junior Kylee Hudson claimed the last spot on the all-around podium (35.400).
Complete meet results…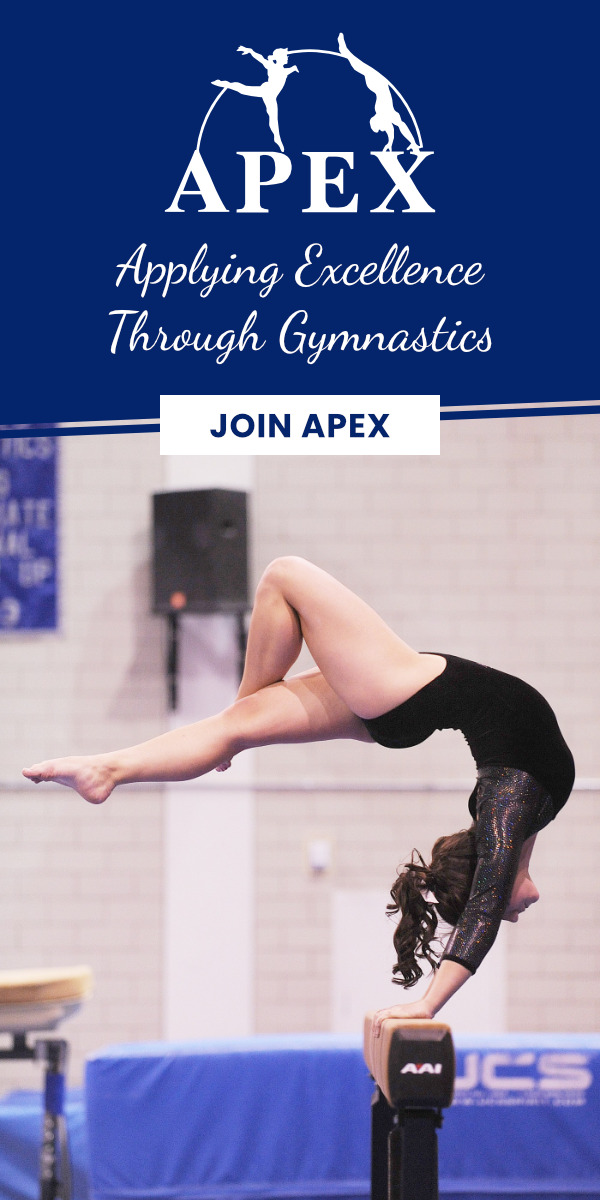 All-Around Results
| | | | | | | | |
| --- | --- | --- | --- | --- | --- | --- | --- |
| Place | Name | School | Vault | Bars | Beam | Floor | All-Around |
| 1 | Carly Snyder | Loudoun Valley | 9.525 | 9.325 | 8.575 | 9.500 | 36.925 |
| 2 | Riley Carroll | Heritage | 8.875 | 8.400 | 9.150 | 9.475 | 35.900 |
| 3 | Kylee Hudson | Lightridge | 8.650 | 8.800 | 8.675 | 9.275 | 35.400 |
| 4 | Isabel Smith | Dominion | 8.650 | 8.625 | 8.650 | 8.500 | 34.425 |
| 5 | Ella Peterson | Loudoun Valley | 8.725 | 7.850 | 8.625 | 9.100 | 34.300 |
| 6 | Taylor Hunter | Heritage | 8.825 | 8.025 | 8.025 | 8.900 | 33.775 |
| 7 | Caitlyn Nash | Heritage | 8.875 | 7.700 | 7.775 | 8.650 | 33.000 |
| 8 | Elle Pickering | Loudoun Valley | 8.750 | 7.350 | 8.100 | 8.425 | 32.625 |
| 9 | Katie Khosrovi | Tuscarora | 8.750 | 7.025 | 8.425 | 8.150 | 32.350 |
| 10 | Camryn Alvarez | Broad Run | 8.925 | 6.100 | 8.250 | 8.875 | 32.150 |
| 11 | Maddie Reece | Loudoun County | 8.475 | 7.450 | 7.825 | 8.350 | 32.100 |
| 12 | Jania Suitte | Independence | 8.950 | 6.925 | 8.100 | 7.950 | 31.925 |
| 13 | Jamie Lee | Dominion | 9.075 | 7.075 | 7.400 | 8.100 | 31.650 |
| 14 | Nina Cacciola | Broad Run | 8.875 | 6.550 | 7.925 | 8.200 | 31.550 |
| 15 | Kiley McGee | Dominion | 8.600 | 6.325 | 7.875 | 8.325 | 31.125 |
| 16 | Madison Barker | Broad Run | 8.750 | 6.700 | 7.900 | 7.675 | 31.025 |
| 17 | Rachael Chrisner | Loudoun County | 8.225 | 6.475 | 8.025 | 7.325 | 30.050 |
| 18 | Rachel Lynn | Lightridge | 8.675 | 6.150 | 6.975 | 7.975 | 29.775 |
| 19 | Bree Scanlon | Tuscarora | 8.375 | 4.700 | 8.275 | 7.375 | 28.725 |
| 20 | Riya Dass | Independence | 8.425 | 4.325 | 6.875 | 7.425 | 27.050 |
| 21 | Lahari Dasoju | Independence | 8.050 | 4.600 | 6.000 | 6.875 | 25.525 |
| 22 | Amber Kirk | Tuscarora | 8.125 | 5.325 | 5.875 | 5.250 | 24.575 |
| 23 | Esmeralda Hernandez | Park View | 6.800 | 2.150 | 6.350 | 7.750 | 23.050 |
Vault Results
| | | | |
| --- | --- | --- | --- |
| Place | Name | School | Score |
| 1 | Carly Snyder | Loudoun Valley | 9.525 |
| 2 | Avery Goodlin | Loudoun Valley | 9.200 |
| 3 | Jamie Lee | Dominion | 9.075 |
| 4 | Megan Shamp | Dominion | 9.050 |
| 5 | Jania Suitte | Independence | 8.950 |
| 6 | Camryn Alvarez | Broad Run | 8.925 |
| 7 | Caitlyn Nash | Heritage | 8.875 |
| 7 | Nina Cacciola | Broad Run | 8.875 |
| 7 | Riley Carroll | Heritage | 8.875 |
| 10 | Reagan Rogers | Loudoun Valley | 8.850 |
| 11 | Taylor Hunter | Heritage | 8.825 |
| 12 | Elle Pickering | Loudoun Valley | 8.750 |
| 12 | Katie Khosrovi | Tuscarora | 8.750 |
| 12 | Madison Barker | Broad Run | 8.750 |
| 15 | Aryaa Argwal | Broad Run | 8.725 |
| 15 | Ella Peterson | Loudoun Valley | 8.725 |
| 17 | Bella Bryan | Loudoun Valley | 8.675 |
| 17 | Rachel Lynn | Lightridge | 8.675 |
| 17 | Riley Lasher | Tuscarora | 8.675 |
| 20 | Brigit Vinnacombe | Dominion | 8.650 |
| 20 | Isabel Smith | Dominion | 8.650 |
| 20 | Kylee Hudson | Lightridge | 8.650 |
| 23 | Sarah Charah | Loudoun County | 8.625 |
| 24 | Keya Patel | Broad Run | 8.600 |
| 24 | Kiley McGee | Dominion | 8.600 |
| 24 | Meagan Donadoni | Broad Run | 8.600 |
| 27 | Destinee Gilyard | Tuscarora | 8.550 |
| 28 | Maddie Reece | Loudoun County | 8.475 |
| 29 | Erika Milikin | Heritage | 8.425 |
| 29 | Riya Dass | Independence | 8.425 |
| 31 | Bree Scanlon | Tuscarora | 8.375 |
| 32 | Lauren Le | Heritage | 8.275 |
| 33 | Rachael Chrisner | Loudoun County | 8.225 |
| 34 | Alexis Jones | Dominion | 8.125 |
| 34 | Amber Kirk | Tuscarora | 8.125 |
| 36 | Lahari Dasoju | Independence | 8.050 |
| 37 | Sarah Joseph | Tuscarora | 7.700 |
| 38 | Esmeralda Hernandez | Park View | 6.800 |
| 39 | Emelyn Hernandez | Park View | 6.750 |
| 40 | Ashley Hernandez | Park View | 6.725 |
| 41 | Shreya Chacko | Independence | 6.525 |
| 42 | Ishita Rathore | Independence | 6.425 |
Bars Results
| | | | |
| --- | --- | --- | --- |
| Place | Name | School | Score |
| 1 | Carly Snyder | Loudoun Valley | 9.325 |
| 2 | Avery Goodlin | Loudoun Valley | 8.825 |
| 3 | Kylee Hudson | Lightridge | 8.800 |
| 4 | Isabel Smith | Dominion | 8.625 |
| 5 | Riley Carroll | Heritage | 8.400 |
| 6 | Taylor Hunter | Heritage | 8.025 |
| 7 | Reagan Rogers | Loudoun Valley | 7.900 |
| 8 | Ella Peterson | Loudoun Valley | 7.850 |
| 9 | Caitlyn Nash | Heritage | 7.700 |
| 10 | Pearl Kelly | Loudoun Valley | 7.475 |
| 11 | Maddie Reece | Loudoun County | 7.450 |
| 12 | Elle Pickering | Loudoun Valley | 7.350 |
| 13 | Brigit Vinnacombe | Dominion | 7.225 |
| 14 | Jamie Lee | Dominion | 7.075 |
| 15 | Katie Khosrovi | Tuscarora | 7.025 |
| 16 | Jania Suitte | Independence | 6.925 |
| 17 | Madison Barker | Broad Run | 6.700 |
| 18 | Keya Patel | Broad Run | 6.675 |
| 19 | Nina Cacciola | Broad Run | 6.550 |
| 20 | Rachael Chrisner | Loudoun County | 6.475 |
| 21 | Kiley McGee | Dominion | 6.325 |
| 22 | Lauren Le | Heritage | 6.300 |
| 23 | Meagan Donadoni | Broad Run | 6.250 |
| 24 | Rachel Lynn | Lightridge | 6.150 |
| 25 | Camryn Alvarez | Broad Run | 6.100 |
| 26 | Aryaa Argwal | Broad Run | 6.000 |
| 27 | Alexis Jones | Dominion | 5.900 |
| 28 | Diana Calderon | Dominion | 5.375 |
| 29 | Amber Kirk | Tuscarora | 5.325 |
| 30 | Bree Scanlon | Tuscarora | 4.700 |
| 31 | Lahari Dasoju | Independence | 4.600 |
| 32 | Riya Dass | Independence | 4.325 |
| 33 | Riley Lasher | Tuscarora | 3.300 |
| 34 | Esmeralda Hernandez | Park View | 2.150 |
Beam Results
| | | | |
| --- | --- | --- | --- |
| Place | Name | School | Score |
| 1 | Avery Goodlin | Loudoun Valley | 9.150 |
| 1 | Riley Carroll | Heritage | 9.150 |
| 3 | Megan Shamp | Dominion | 8.775 |
| 4 | Kylee Hudson | Lightridge | 8.675 |
| 5 | Isabel Smith | Dominion | 8.650 |
| 6 | Ella Peterson | Loudoun Valley | 8.625 |
| 7 | Carly Snyder | Loudoun Valley | 8.575 |
| 8 | Katie Khosrovi | Tuscarora | 8.425 |
| 9 | Bree Scanlon | Tuscarora | 8.275 |
| 10 | Camryn Alvarez | Broad Run | 8.250 |
| 11 | Elle Pickering | Loudoun Valley | 8.100 |
| 11 | Jania Suitte | Independence | 8.100 |
| 13 | Rachael Chrisner | Loudoun County | 8.025 |
| 13 | Taylor Hunter | Heritage | 8.025 |
| 15 | Haley Patel | Heritage | 8.000 |
| 16 | Kayla Crowson | Loudoun Valley | 7.925 |
| 16 | Nina Cacciola | Broad Run | 7.925 |
| 18 | Madison Barker | Broad Run | 7.900 |
| 19 | Kiley McGee | Dominion | 7.875 |
| 19 | Sarah Charah | Loudoun County | 7.875 |
| 21 | Maddie Reece | Loudoun County | 7.825 |
| 22 | Caitlyn Nash | Heritage | 7.775 |
| 23 | Camilla Amato | Broad Run | 7.500 |
| 24 | Lauren Kim | Heritage | 7.450 |
| 25 | Jamie Lee | Dominion | 7.400 |
| 25 | Tirayah Robinson | Loudoun Valley | 7.400 |
| 27 | Diana Calderon | Dominion | 7.175 |
| 28 | Rachel Lynn | Lightridge | 6.975 |
| 29 | Riya Dass | Independence | 6.875 |
| 30 | Emelyn Hernandez | Park View | 6.775 |
| 31 | Ashley Hernandez | Park View | 6.425 |
| 32 | Esmeralda Hernandez | Park View | 6.350 |
| 32 | Parker Dettra | Tuscarora | 6.350 |
| 34 | Lahari Dasoju | Independence | 6.000 |
| 35 | Amber Kirk | Tuscarora | 5.875 |
| 36 | Abby McConnell | Broad Run | 5.750 |
| 37 | Nazaaha Farooq | Dominion | 5.275 |
| 38 | Sarah Joseph | Tuscarora | 4.975 |
| 39 | Shreya Chacko | Independence | 4.625 |
| 40 | Ishita Rathore | Independence | 4.500 |
| 41 | Caitlyn Polston | Broad Run | 4.350 |
| 42 | Morgan Jenkins | Tuscarora | 4.250 |
Floor Results
| | | | |
| --- | --- | --- | --- |
| Place | Name | School | Score |
| 1 | Carly Snyder | Loudoun Valley | 9.500 |
| 2 | Riley Carroll | Heritage | 9.475 |
| 3 | Kylee Hudson | Lightridge | 9.275 |
| 4 | Ella Peterson | Loudoun Valley | 9.100 |
| 5 | Kayla Crowson | Loudoun Valley | 9.075 |
| 6 | Sarah Vielbig | Broad Run | 8.900 |
| 6 | Taylor Hunter | Heritage | 8.900 |
| 8 | Camryn Alvarez | Broad Run | 8.875 |
| 9 | Reagan Rogers | Loudoun Valley | 8.850 |
| 10 | Caitlyn Nash | Heritage | 8.650 |
| 11 | Isabel Smith | Dominion | 8.500 |
| 11 | Megan Shamp | Dominion | 8.500 |
| 13 | Mirella Savee | Loudoun Valley | 8.450 |
| 14 | Elle Pickering | Loudoun Valley | 8.425 |
| 15 | Maddie Reece | Loudoun County | 8.350 |
| 16 | Kiley McGee | Dominion | 8.325 |
| 17 | Nina Cacciola | Broad Run | 8.200 |
| 18 | Katie Khosrovi | Tuscarora | 8.150 |
| 19 | Jamie Lee | Dominion | 8.100 |
| 20 | Abby McConnell | Broad Run | 8.000 |
| 20 | Lauren Le | Heritage | 8.000 |
| 22 | Rachel Lynn | Lightridge | 7.975 |
| 23 | Jania Suitte | Independence | 7.950 |
| 23 | Lauren Kim | Heritage | 7.950 |
| 25 | Ava Dekenipp | Loudoun County | 7.850 |
| 26 | Esmeralda Hernandez | Park View | 7.750 |
| 27 | Madison Barker | Broad Run | 7.675 |
| 28 | Sarah Charah | Loudoun County | 7.650 |
| 29 | Diana Calderon | Dominion | 7.625 |
| 30 | Riley Lasher | Tuscarora | 7.550 |
| 31 | Aria Williams | Loudoun County | 7.500 |
| 32 | Riya Dass | Independence | 7.425 |
| 33 | Jada Moore | Heritage | 7.400 |
| 34 | Bree Scanlon | Tuscarora | 7.375 |
| 34 | Camilla Amato | Broad Run | 7.375 |
| 36 | Rachael Chrisner | Loudoun County | 7.325 |
| 37 | Alexis Jones | Dominion | 7.200 |
| 38 | Lahari Dasoju | Independence | 6.875 |
| 39 | Emelyn Hernandez | Park View | 6.675 |
| 39 | Parker Dettra | Tuscarora | 6.675 |
| 41 | Ishita Rathore | Independence | 6.375 |
| 42 | Ashley Hernandez | Park View | 6.350 |
| 43 | Sarah Joseph | Tuscarora | 5.925 |
| 44 | Amber Kirk | Tuscarora | 5.250 |
Team Results
| | | | | | | |
| --- | --- | --- | --- | --- | --- | --- |
| Place | School | Vault | Bars | Beam | Floor | Total |
| 1 | Loudoun Valley | 36.325 | 33.900 | 34.450 | 36.525 | 141.200 |
| 2 | Heritage | 35.000 | 30.425 | 32.950 | 35.025 | 133.400 |
| 3 | Dominion | 35.425 | 29.250 | 32.700 | 33.425 | 130.800 |
| 4 | Broad Run | 35.275 | 26.175 | 31.575 | 33.975 | 127.000 |
| 5 | Tuscarora | 34.350 | 20.350 | 28.925 | 29.750 | 113.375 |
| 6 | Independence | 31.950 | 15.850 | 25.600 | 28.625 | 102.025 |
| 7 | Loudoun County | 25.325 | 13.925 | 23.725 | 31.350 | 94.325 |
| 8 | Lightridge | 17.325 | 14.950 | 15.650 | 17.250 | 65.175 |
| 9 | Park View | 20.275 | 2.150 | 19.550 | 20.775 | 62.750 |