Loudoun County, Va. — After winter sports were cut short and as spring sports await their ultimate fate, we wanted a way for people to forget about March Sadness, so we decided to create our own March Madness, LoCoSports style!
Here's how it works. We've randomly matched up each of the 16 public high schools in Loudoun County. Over the next 10 days, we're going to create polls (below and on Twitter) where students and fans from the competing schools can vote to move their school into the next round. Tip-offs will start at 7:15 p.m. and 8:15 p.m. and will last 24 hours for each game. The team with the most votes at the end of the poll wins and moves on.
While we all long for sports to return, let's keep our school spirit up, our hands washed, and our game faces on to crown Loudoun's Best Student Section.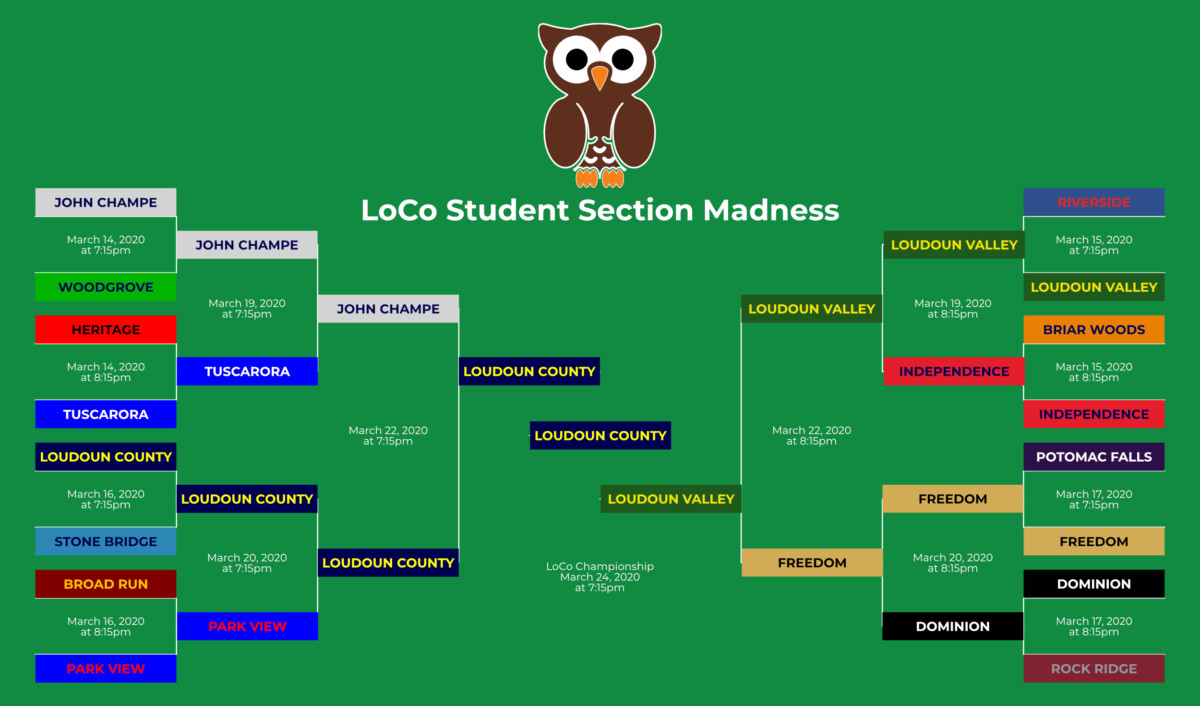 Championship
March Madness: Who has the better student section, Loudoun County or Loudoun Valley? #LoCoMadness #LoCoChampionship

Voting is open for the next 24 hours >>> https://t.co/gkbXoemqbd

— LoCoSports (@LoCoSports) March 24, 2020
Final Four
March Madness: Who has the better student section, John Champe or Loudoun County? #LoCoMadness #FinalFour

Voting is open for the next 24 hours >>> https://t.co/gkbXoemqbd

— LoCoSports (@LoCoSports) March 22, 2020
March Madness: Who has the better student section, Freedom or Loudoun Valley? #LoCoMadness #FinalFour

Voting is open for the next 24 hours >>> https://t.co/gkbXoemqbd

— LoCoSports (@LoCoSports) March 23, 2020
Elite Eight
March Madness: Who has the better student section, John Champe or Tuscarora? #LoCoMadness #EliteEight

Voting is open for the next 24 hours >>> https://t.co/gkbXoemqbd

— LoCoSports (@LoCoSports) March 19, 2020
March Madness: Who has the better student section, Loudoun Valley or Independence? #LoCoMadness #EliteEight

Voting is open for the next 24 hours >>> https://t.co/gkbXoemqbd

— LoCoSports (@LoCoSports) March 20, 2020
March Madness: Who has the better student section, Loudoun County or Park View? #LoCoMadness #EliteEight

Voting is open for the next 24 hours >>> https://t.co/gkbXoemqbd

— LoCoSports (@LoCoSports) March 20, 2020
March Madness: Who has the better student section, Freedom or Dominion? #LoCoMadness #EliteEight

Voting is open for the next 24 hours >>> https://t.co/gkbXoemqbd

— LoCoSports (@LoCoSports) March 21, 2020
Sweet Sixteen
March Madness: Who has the better student section, John Champe or Woodgrove? #LoCoMadness #SweetSixteen

Voting is open for the next 24 hours >>> https://t.co/gkbXoemqbd

— LoCoSports (@LoCoSports) March 14, 2020
March Madness: Who has the better student section, Heritage or Tuscarora? #LoCoMadness #SweetSixteen

Voting is open for the next 24 hours >>> https://t.co/gkbXoemqbd

— LoCoSports (@LoCoSports) March 15, 2020
March Madness: Who has the better student section, Riverside or Loudoun Valley? #LoCoMadness #SweetSixteen

Voting is open for the next 24 hours >>> https://t.co/gkbXoemqbd

— LoCoSports (@LoCoSports) March 15, 2020
March Madness: Who has the better student section, Briar Woods or Independence? #LoCoMadness #SweetSixteen

Voting is open for the next 24 hours >>> https://t.co/gkbXoemqbd

— LoCoSports (@LoCoSports) March 16, 2020
March Madness: Who has the better student section, Loudoun County or Stone Bridge? #LoCoMadness #SweetSixteen

Voting is open for the next 24 hours >>> https://t.co/gkbXoemqbd

— LoCoSports (@LoCoSports) March 16, 2020
March Madness: Who has the better student section, Broad Run or Park View? #LoCoMadness #SweetSixteen

Voting is open for the next 24 hours >>> https://t.co/gkbXoemqbd

— LoCoSports (@LoCoSports) March 17, 2020
March Madness: Who has the better student section, Potomac Falls or Freedom? #LoCoMadness #SweetSixteen

Voting is open for the next 24 hours >>> https://t.co/gkbXoemqbd

— LoCoSports (@LoCoSports) March 17, 2020
March Madness: Who has the better student section, Dominion or Rock Ridge? #LoCoMadness #SweetSixteen

Voting is open for the next 24 hours >>> https://t.co/gkbXoemqbd

— LoCoSports (@LoCoSports) March 18, 2020