Sterling, Va. — It hadn't felt like Potomac Falls High School boys basketball in awhile. After back-to-back losses to Freedom and Rock Ridge, it hadn't felt like the program that had dominated Loudoun County for more than a decade.
Potomac Falls head coach Jeff Hawes wasn't totally sure what to do. The day after the loss to Rock Ridge – a team that few would have expected the Panthers to lose to – other coaches would have held a vigorous practice filled with gassers, conditioning, and other punishments. Earlier in his career, Hawes may have himself.
Instead, he brought his players into a classroom filled with Doritos, popcorn, cookies, candy, and Gatorade and put on Hoosiers.
The next day – one before a possibly season defining game against district opponent Stone Bridge – the team had what Hawes called "their best practice of the year."
The day after that, they stomped the Bulldogs, 77-55, in a win that was monumentally more important than just one game.
After the game, Hawes ran into the locker room where he and his team jumped up and down spraying their water bottles and cheering with gusto. Then, they turned on the music, and the 53-year-old coach began to dance in a circle surrounded by his team, his light blue shirt now turned dark by the water, his voice still a bit hoarse from yelling, his skin tinged with a bit of red from the exertion of screaming and yelling in the game, but his face still lit up from the thrill of victory.
The Potomac Falls Panthers are by no means a perfect basketball team. No team is, and their flaws are serious ones. But for all their faults, they have what so many programs across schools, sports, and levels try to cultivate: culture.
The Panther Way
There's an established culture at 46400 Algonkian Parkway: one of a consistent winner that enjoys themselves. It starts with Hawes himself, and his larger than life personality and extends all the way down through his players and into the stands.
Sometimes you'll see Hawes jump up and down and gesticulate wildly, not at his players, not at the refs, but at the best basketball student section in the county, The Panther Pit. He fires them up and his team feeds off their energy to great results.
Coker Dominance
Of course, it helps to have talented players, and Hawes has been blessed with those. Potomac Falls senior forward Jalen Coker is one of the most athletic players in the entire county and he displayed those skills to dominate Stone Bridge.
Coker dropped 27 points and grabbed 15 rebounds, 8 of which were on the offensive end and led to putbacks and second chance points. In addition to that, he was an absolute menace defensively, with four steals and three blocks.
He added three thundering dunks, more than doubling his total for the year from 2 to 5 on the season.
He played some minutes at center for the first time this year, and it's a move that seemed to work extremely well as Stone Bridge went long periods without even attempting shots in the middle of the paint.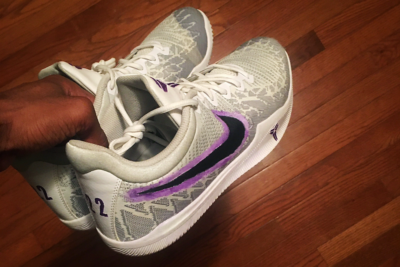 For Coker, a lot of the battle seems to be playing with the necessary intensity to have a game-changing effort on a game-to-game basis.
He asked Hawes before the game to wear a special pair of shoes designed by Potomac Falls alum Taylor Flowers to which the coach asked, "You gonna play hard as ever?"
"He's gonna wear those shoes," Hawes said with a hearty chuckle after the game.
Coker's skillset is maximized as someone who can clean up the glass and function as a high-level scorer off shots created by others. He's not going to be at his best when he puts the ball on the floor or tries to shoot from outside, as he had three turnovers and went 0-3 from outside. He's going to be at his best, not as a creator, but as a secondary playmaker off the pick and roll and as a finisher.
Put there, and he's going to be almost unstoppable: a rare blend of size, speed, and burst that coalesces into athleticism that is unmatched by anyone in the Potomac District. If he can replicate that kind of effort on a night to night basis… watch out.
Wear and Tear
The problem with Coker's skillset is the strain it puts on the other half of the Panther's dynamic duo, Landon Hawes. The senior forward has been great all year despite dealing with a slight tear of his patellar tendon.
A PRP injection given before the season has been sustaining him, but Hawes is beginning to feel the effects of the heavy workload. He plays nearly the entire game, and his minutes aren't low energy. The coach's son plays like every minute on the court is one where he has to prove himself, diving for loose balls, hounding opposing stars on defense, and sprinting up and down the court.
While that's admirable, it's also taxing. Combine that with the team's dependency on him to create offensively, and it's taking a toll. Hawes shot 6-of-18 from the floor, including 2-of-9 from behind the arc in the win over Stone Bridge, and while he added 17 rebounds, there were multiple occurrences where his shot looked flat and his legs just seemed to have less lift than usual.
He's being given the best rehab in the county, but the Landon Hawes situation is one that has to be monitored for the rest of the season.
Creating
Part of the reason Landon Hawes is wearing down is because he does so much. Every possession involves him in some form or another, and nothing seems to come easy.
Every drive is contested, every pick and roll is swarmed, every shot is an ordeal, and it's taking its toll. The Panthers have to find a way to either limit his minutes – which is hard in a tight late-season run – or make those minutes much less difficult.
If it's going to happen, it has to come from the Panther supporting cast, specifically the guards. Seniors Renzon Mendoza and Alec Munoz, among others, will have to be able to provide some burst, and for their part, they did it against Stone Bridge. It'll be interesting to see how that continues as the season progresses.
A name to possibly watch? Potomac Falls sophomore guard Kyle Ables – recently called up from JV – has shown some nice burst and an ability to get to the rim. The idea of relying on a sophomore scares me, as Ables has shown some turnover issues, but in limited minutes, he's flashed and he could be an X-factor as the season gets older and older.
Parting Shots
This is a flawed team, there's no other way to put it. But, every team has flaws; if there were perfect teams, this wouldn't be any fun.
What Potomac Falls has on their side is star power. The two seniors can elevate those around them and give the Panthers a chance to win on any given night.
Their biggest star, however, is the man standing on the sideline, one who has and will define Panther basketball and Loudoun County basketball long after he chooses to hang up his coat and retire his signature stomp.