Sterling, Va. — Heritage High School freshman Julia Welch claimed the all-around (37.150) win at the Park View Invitational on January 11, leading the Pride to the team championship. Welch won the vault with a 9.700, placed second on the bars with a 8.900, third on the beam with a 9.175, and third on the floor with a 9.375.
Welch's sister Joanna finished just behind her with a 37.100.
Loudoun County High School junior Maddie Reece won the all-around in the blue division.
Complete meet results…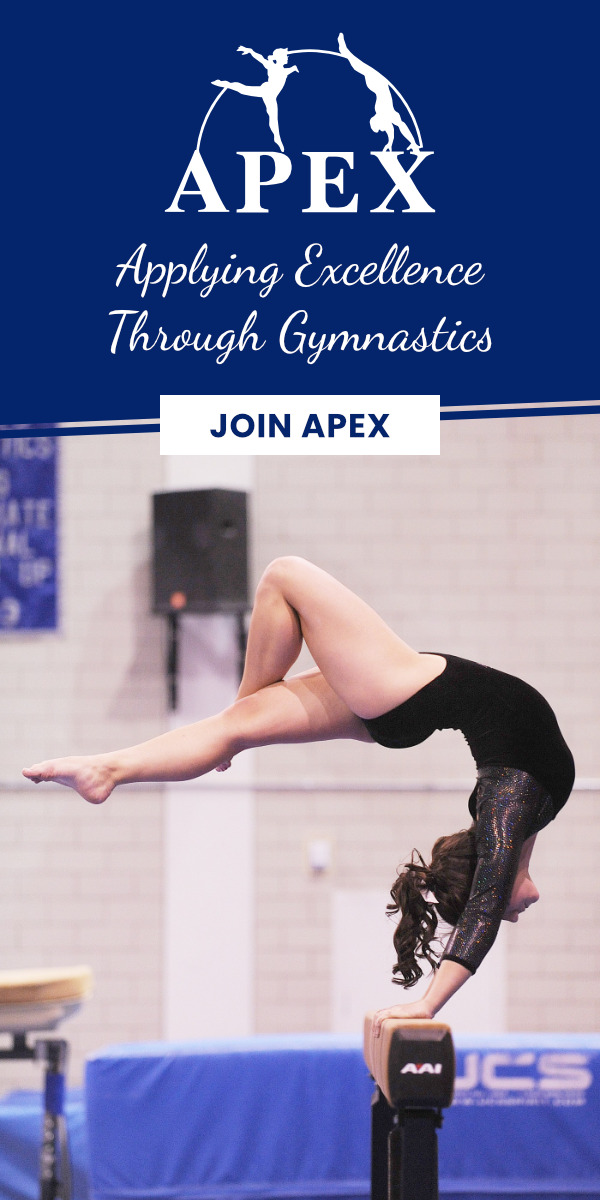 All-Around Results — Red
| | | | | | | | |
| --- | --- | --- | --- | --- | --- | --- | --- |
| Place | Name | School | Vault | Bars | Beam | Floor | All-Around |
| 1 | Julia Welch | Heritage | 9.700 | 8.900 | 9.175 | 9.375 | 37.150 |
| 2 | Joanna Welch | Heritage | 9.350 | 8.900 | 9.250 | 9.600 | 37.100 |
| 3 | Jenna Haran | Loudoun Valley | 8.850 | 8.550 | 9.450 | 9.600 | 36.450 |
| 4 | Ashley Gill | Broadway | 8.675 | 9.225 | 8.000 | 9.200 | 35.100 |
| 5 | Helene Nesheim | Stone Bridge | 9.000 | 7.550 | 8.725 | 8.950 | 34.225 |
| 6 | Caitlyn Nash | Heritage | 8.450 | 7.750 | 8.525 | 8.600 | 33.325 |
| 6 | Lillian Chiang | Potomac Falls | 8.425 | 7.725 | 8.525 | 8.650 | 33.325 |
| 8 | Meadow Swanson | Potomac Falls | 8.250 | 7.875 | 7.775 | 8.375 | 32.275 |
| 9 | Niki Oberoi | Rock Ridge | 8.225 | 5.100 | 8.375 | 8.750 | 30.450 |
| 10 | Asia Acosta | Potomac Falls | 8.425 | 6.000 | 7.425 | 8.500 | 30.350 |
| 11 | Elise Irvin | Rock Ridge | 8.050 | 4.750 | 5.800 | 7.625 | 26.225 |
Vault Results — Red
| | | | |
| --- | --- | --- | --- |
| Place | Name | School | Score |
| 1 | Julia Welch | Heritage | 9.700 |
| 2 | Joanna Welch | Heritage | 9.350 |
| 3 | Helene Nesheim | Stone Bridge | 9.000 |
| 4 | Sophie Weaver | Broadway | 8.875 |
| 5 | Jenna Haran | Loudoun Valley | 8.850 |
| 6 | Julia Green | Stone Bridge | 8.750 |
| 7 | Taylor Hunter | Heritage | 8.700 |
| 8 | Ashley Gill | Broadway | 8.675 |
| 9 | Jordan Driver | Broadway | 8.600 |
| 10 | Elizabeth Pickering | Loudoun Valley | 8.550 |
| 11 | Bailey Crittenden | Stone Bridge | 8.475 |
| 12 | Caitlyn Nash | Heritage | 8.450 |
| 13 | Lillian Chiang | Potomac Falls | 8.425 |
| 13 | Asia Acosta | Potomac Falls | 8.425 |
| 15 | Sarah Brundage | Loudoun Valley | 8.400 |
| 16 | Kaylee Turner | Broadway | 8.275 |
| 17 | Meadow Swanson | Potomac Falls | 8.250 |
| 18 | Niki Oberoi | Rock Ridge | 8.225 |
| 19 | Olivia Green | Stone Bridge | 8.150 |
| 20 | Elise Irvin | Rock Ridge | 8.050 |
| 20 | Tirayah Robinson | Loudoun Valley | 8.050 |
| 22 | Christina Precht | Potomac Falls | 8.000 |
| 23 | Tatiana Conrow | Rock Ridge | 7.950 |
| 24 | Jalikacu Koroma | Rock Ridge | 6.425 |
Bars Results — Red
| | | | |
| --- | --- | --- | --- |
| Place | Name | School | Score |
| 1 | Ashley Gill | Broadway | 9.225 |
| 2 | Joanna Welch | Heritage | 8.900 |
| 2 | Julia Welch | Heritage | 8.900 |
| 4 | Jenna Haran | Loudoun Valley | 8.550 |
| 5 | Riley Carroll | Heritage | 8.475 |
| 6 | Carly Snyder | Loudoun Valley | 8.350 |
| 7 | Avery Goodlin | Loudoun Valley | 8.125 |
| 8 | Meadow Swanson | Potomac Falls | 7.875 |
| 9 | Caitlyn Nash | Heritage | 7.750 |
| 10 | Lillian Chiang | Potomac Falls | 7.725 |
| 11 | Jessica Estep | Broadway | 7.675 |
| 12 | Joy Bergan | Broadway | 7.600 |
| 13 | Helene Nesheim | Stone Bridge | 7.550 |
| 14 | Mirella Savee | Loudoun Valley | 7.275 |
| 15 | Elizabeth Casey | Stone Bridge | 7.225 |
| 16 | Bailey Crittenden | Stone Bridge | 6.575 |
| 17 | Asia Acosta | Potomac Falls | 6.000 |
| 18 | Julia Green | Stone Bridge | 5.950 |
| 19 | Jordan Driver | Broadway | 5.575 |
| 20 | Elise Pernell | Rock Ridge | 5.500 |
| 21 | Daniella Arana | Potomac Falls | 5.100 |
| 21 | Niki Oberoi | Rock Ridge | 5.100 |
| 23 | Elise Irvin | Rock Ridge | 4.750 |
| 24 | Tatiana Conrow | Rock Ridge | 4.525 |
Beam Results — Red
| | | | |
| --- | --- | --- | --- |
| Place | Name | School | Score |
| 1 | Jenna Haran | Loudoun Valley | 9.450 |
| 2 | Joanna Welch | Heritage | 9.250 |
| 3 | Julia Welch | Heritage | 9.175 |
| 4 | Grace Hawk | Loudoun Valley | 8.825 |
| 5 | Helene Nesheim | Stone Bridge | 8.725 |
| 6 | Lillian Chiang | Potomac Falls | 8.525 |
| 6 | Caitlyn Nash | Heritage | 8.525 |
| 8 | Niki Oberoi | Rock Ridge | 8.375 |
| 8 | Taylor Hunter | Heritage | 8.375 |
| 10 | Bailey Crittenden | Stone Bridge | 8.325 |
| 11 | Jessica Estep | Broadway | 8.300 |
| 12 | Kayla Crowson | Loudoun Valley | 8.275 |
| 13 | Elizabeth Casey | Stone Bridge | 8.150 |
| 14 | Ashley Gill | Broadway | 8.000 |
| 15 | Jordan Driver | Broadway | 7.950 |
| 16 | Daniella Arana | Potomac Falls | 7.850 |
| 17 | Meadow Swanson | Potomac Falls | 7.775 |
| 18 | Kaylee Turner | Broadway | 7.675 |
| 19 | Asia Acosta | Potomac Falls | 7.425 |
| 20 | Kassidy Cox | Loudoun Valley | 7.300 |
| 21 | Olivia Green | Stone Bridge | 7.275 |
| 22 | Tatiana Conrow | Rock Ridge | 5.950 |
| 23 | Elise Irvin | Rock Ridge | 5.800 |
Floor Results — Red
| | | | |
| --- | --- | --- | --- |
| Place | Name | School | Score |
| 1 | Jenna Haran | Loudoun Valley | 9.600 |
| 1 | Joanna Welch | Heritage | 9.600 |
| 3 | Julia Welch | Heritage | 9.375 |
| 4 | Carly Snyder | Loudoun Valley | 9.300 |
| 5 | Elizabeth Casey | Stone Bridge | 9.225 |
| 6 | Ashley Gill | Broadway | 9.200 |
| 7 | Riley Carroll | Heritage | 9.100 |
| 8 | Sophie Weaver | Broadway | 9.075 |
| 9 | Helene Nesheim | Stone Bridge | 8.950 |
| 10 | Niki Oberoi | Rock Ridge | 8.750 |
| 11 | Lillian Chiang | Potomac Falls | 8.650 |
| 12 | Caitlyn Nash | Heritage | 8.600 |
| 13 | Kaylee Turner | Broadway | 8.550 |
| 14 | Asia Acosta | Potomac Falls | 8.500 |
| 15 | Lexi Conley | Broadway | 8.475 |
| 16 | Meadow Swanson | Potomac Falls | 8.375 |
| 17 | Daniella Arana | Potomac Falls | 8.250 |
| 18 | Mary Kate Connor | Stone Bridge | 8.225 |
| 19 | Reagan Rogers | Loudoun Valley | 8.200 |
| 20 | Alexa Williams | Stone Bridge | 7.775 |
| 21 | Elise Irvin | Rock Ridge | 7.625 |
| 22 | Isabella Bryan | Loudoun Valley | 7.500 |
| 23 | Elise Pernell | Rock Ridge | 6.600 |
| 24 | Jalikacu Koroma | Rock Ridge | 5.450 |
Team Results — Red
| | | |
| --- | --- | --- |
| Place | Team | Score |
| 1 | Heritage | 109.050 |
| 2 | Loudoun Valley | 104.475 |
| 3 | Broadway | 101.725 |
| 4 | Stone Bridge | 99.175 |
| 5 | Potomac Falls | 96.375 |
| 6 | Rock Ridge | 82.675 |
All-Around Results — Blue
| | | | | | | | |
| --- | --- | --- | --- | --- | --- | --- | --- |
| Place | Name | School | Vault | Bars | Beam | Floor | All-Around |
| 1 | Maddie Reece | Loudoun County | 8.775 | 7.350 | 8.100 | 8.200 | 32.425 |
| 2 | Jamie Lee | Dominion | 8.950 | 6.825 | 7.400 | 8.250 | 31.425 |
| 3 | Melanie Vieyra | Loudoun County | 8.550 | 5.325 | 7.600 | 7.425 | 28.900 |
| 4 | Gracie Armstrong | Turner Ashby | 8.300 | 6.550 | 6.775 | 7.125 | 28.750 |
| 5 | Julie Nguyen | Park View | 8.000 | 4.850 | 7.525 | 8.300 | 28.675 |
| 6 | Rachael Chrisner | Loudoun County | 7.850 | 6.175 | 6.825 | 6.900 | 27.750 |
| 7 | Sarah Charah | Loudoun County | 8.125 | 4.825 | 7.000 | 7.300 | 27.250 |
| 8 | Livy Layman | Turner Ashby | 6.350 | 4.075 | 4.275 | 5.100 | 19.800 |
| 9 | Dorothy Yates | Harrisonburg | 8.500 | 3.750 | | 6.950 | 19.200 |
| 10 | Sara Kareem | Spotswood | 5.900 | 3.100 | 4.450 | 5.000 | 18.450 |
| 11 | Savannah Church | Spotswood | | 3.025 | 6.550 | 4.200 | 13.775 |
Vault Results — Blue
| | | | |
| --- | --- | --- | --- |
| Place | Name | School | Score |
| 1 | Jamie Lee | Dominion | 8.950 |
| 2 | Maddie Reece | Loudoun County | 8.775 |
| 3 | Melanie Vieyra | Loudoun County | 8.550 |
| 4 | Dorothy Yates | Harrisonburg | 8.500 |
| 5 | Brigit Vinnacombe | Dominion | 8.475 |
| 6 | Gracie Armstrong | Turner Ashby | 8.300 |
| 7 | Aniah Falls | Park View | 8.200 |
| 8 | Megan Shamp | Dominion | 8.150 |
| 8 | Lexi Jones | Dominion | 8.150 |
| 10 | Sarah Charah | Loudoun County | 8.125 |
| 11 | Julie Nguyen | Park View | 8.000 |
| 11 | Chloe Nichols | Harrisonburg | 8.000 |
| 13 | Rachael Chrisner | Loudoun County | 7.850 |
| 14 | Erica Valle | Park View | 7.550 |
| 15 | Mollie Moomaw | Harrisonburg | 7.400 |
| 16 | Maya Michael-Lee | Turner Ashby | 7.200 |
| 17 | Denajah Hepner | Harrisonburg | 7.150 |
| 18 | Gena Day-Miller | Turner Ashby | 7.100 |
| 19 | Livy Layman | Turner Ashby | 6.350 |
| 19 | Emma Kelley | Park View | 6.350 |
| 21 | Sara Kareem | Spotswood | 5.900 |
Bars Results — Blue
| | | | |
| --- | --- | --- | --- |
| Place | Name | School | Score |
| 1 | Maddie Reece | Loudoun County | 7.350 |
| 2 | Jamie Lee | Dominion | 6.825 |
| 3 | Gracie Armstrong | Turner Ashby | 6.550 |
| 4 | Rachael Chrisner | Loudoun County | 6.175 |
| 5 | Sydney Kane | Dominion | 6.075 |
| 6 | Lexi Jones | Dominion | 5.675 |
| 7 | Diana Calderon | Dominion | 5.525 |
| 8 | Melanie Vieyra | Loudoun County | 5.325 |
| 9 | Julie Nguyen | Park View | 4.850 |
| 10 | Sarah Charah | Loudoun County | 4.825 |
| 10 | Maya Sarco | Harrisonburg | 4.825 |
| 12 | Laney Biddle | Turner Ashby | 4.625 |
| 13 | Aniah Falls | Park View | 4.500 |
| 14 | Lizzy Healy | Harrisonburg | 4.150 |
| 15 | Livy Layman | Turner Ashby | 4.075 |
| 16 | Esmeralda Hernandez | Park View | 3.950 |
| 17 | Mary Elanor Hermes | Harrisonburg | 3.850 |
| 18 | Dorothy Yates | Harrisonburg | 3.750 |
| 19 | Erica Valle | Park View | 3.450 |
| 20 | Sara Kareem | Spotswood | 3.100 |
| 21 | Savannah Church | Spotswood | 3.025 |
| 22 | Maya Michael-Lee | Turner Ashby | 2.550 |
Beam Results — Blue
| | | | |
| --- | --- | --- | --- |
| Place | Name | School | Score |
| 1 | Megan Shamp | Dominion | 8.200 |
| 2 | Maddie Reece | Loudoun County | 8.100 |
| 3 | Emelyn Hernandez | Park View | 7.725 |
| 4 | Sophia Ashton | Dominion | 7.650 |
| 5 | Melanie Vieyra | Loudoun County | 7.600 |
| 6 | Julie Nguyen | Park View | 7.525 |
| 7 | Chloe Nichols | Harrisonburg | 7.500 |
| 8 | Jamie Lee | Dominion | 7.400 |
| 9 | Sarah Charah | Loudoun County | 7.000 |
| 10 | Rachael Chrisner | Loudoun County | 6.825 |
| 11 | Gracie Armstrong | Turner Ashby | 6.775 |
| 12 | Savannah Church | Spotswood | 6.550 |
| 13 | Diana Calderon | Dominion | 6.425 |
| 14 | Lizzy Healy | Harrisonburg | 6.400 |
| 15 | Kimberly Valle | Park View | 6.250 |
| 16 | Andie Neher | Turner Ashby | 6.125 |
| 17 | Ashley Hernandez | Park View | 5.900 |
| 18 | Gena Day-Miller | Turner Ashby | 4.725 |
| 19 | Clara Miller | Harrisonburg | 4.525 |
| 20 | Sara Kareem | Spotswood | 4.450 |
| 21 | Livy Layman | Turner Ashby | 4.275 |
| 22 | Mary Elanor Hermes | Harrisonburg | 4.100 |
Floor Results — Blue
| | | | |
| --- | --- | --- | --- |
| Place | Name | School | Score |
| 1 | Julie Nguyen | Park View | 8.300 |
| 2 | Jamie Lee | Dominion | 8.250 |
| 2 | Sophia Ashton | Dominion | 8.250 |
| 4 | Maddie Reece | Loudoun County | 8.200 |
| 5 | Chloe Nichols | Harrisonburg | 8.150 |
| 6 | Aniah Falls | Park View | 7.750 |
| 7 | Emelyn Hernandez | Park View | 7.600 |
| 8 | Melanie Vieyra | Loudoun County | 7.425 |
| 9 | Sarah Charah | Loudoun County | 7.300 |
| 9 | Brigit Vinnacombe | Dominion | 7.300 |
| 11 | Erica Valle | Park View | 7.250 |
| 12 | Mary Elanor Hermes | Harrisonburg | 7.150 |
| 13 | Gracie Armstrong | Turner Ashby | 7.125 |
| 14 | Sierra Hollerbach | Dominion | 7.050 |
| 15 | Laney Biddle | Turner Ashby | 6.975 |
| 16 | Dorothy Yates | Harrisonburg | 6.950 |
| 17 | Rachael Chrisner | Loudoun County | 6.900 |
| 18 | Lizzy Healy | Harrisonburg | 6.500 |
| 19 | Andie Neher | Turner Ashby | 6.100 |
| 20 | Livy Layman | Turner Ashby | 5.100 |
| 21 | Sara Kareem | Spotswood | 5.000 |
| 22 | Savannah Church | Spotswood | 4.200 |
Team Results — Blue
| | | |
| --- | --- | --- |
| Place | Team | Score |
| 1 | Dominion | 91.200 |
| 2 | Loudoun County | 89.925 |
| 3 | Park View | 82.200 |
| 4 | Harrisonburg | 77.400 |
| 5 | Turner Ashby | 75.675 |
| 6 | Spotswood | 32.225 |