Leesburg, Va. — After allowing nearly 27 points per game against last fall, the Heritage High School defense came out with a vengeance in 2017. Led by a senior-ridden line and an electric secondary, the Pride opened their season with a 22-0 shutout win over Freedom High School in front of a home crowd in Leesburg on August 25.
"We know we have a really good defense," Heritage head coach Reed Prosser said. "This is the best defense we've had in the five years I've been here. The kids have worked really hard."
In Prosser's five-year tenure at the helm of the Pride, his defense has just one other shutout: a 24-0 win over John Champe High School on November 1, 2013. Nearly four years later, it's the depth of their front seven that allowed Heritage to keep Freedom's restructured – yet, potentially explosive – offense in check.
"We're a team that can lean on people and wear them out, and it won't wear us out on defense," Prosser said. "We can double dip a lot on defense because we have depth."
The depth up front is supported by a secondary core led by 2016 All-LoCo first team defensive back Aaron Maisus and junior Gio Wooten.
"We have a great defensive line this year; we're starting three seniors, so we're solid up front," Maisus said. "Our linebackers and secondary stepped up big. It's all about game planning and executing."
The defensive game plan for Heritage was simple: keep Freedom senior receiver Robert Mayo in check.
"When you have a talent like Mayo on the field – I mean if he touches the ball he's gone – so it's nice to get on the board early, then get another one," Prosser said. "It gave us some breathing space. He is one play lightning; if he touches it, he houses it. If it's a one possession game it's scary, so it was nice to stretch the score out."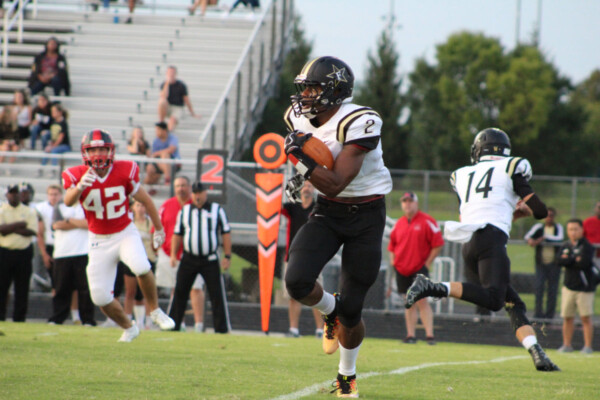 With four minutes left in the first quarter, Heritage got on the board when sophomore quarterback Brett Johnson connected with senior tight end Jared Vaughn on a 12-yard touchdown pass to the back corner of the endzone.
"It's a lot of pressure to come out for this start," said Johnson, who made his first career start in the win. "But our defense played well, our offense stepped up and we came away with the win."
The Pride added to their lead just minutes into the second quarter when senior running back Alejandro Calderon carried in a touchdown from two yards out.
"Offensively, we're still a work in progress, but we have a lot of parts that we like," Prosser said. "We're just trying to figure out who's going to make plays for us."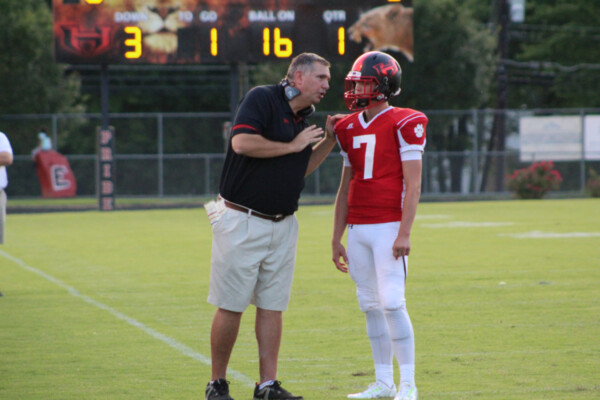 There were some hiccups for Heritage in the loss and some shining moments for Freedom, who picked off Johnson twice, including early when sophomore Darius Mayo cut a route and picked off Johnson in Eagles' territory.
"We have good players, and the bottom line is we didn't execute," first-year Freedom head coach Jason Belser said. "There were some bright spots, but we have some work to do."
After earning their fifth straight season opening win, the Pride are back in action on September 1 when they travel to Rock Ridge High School – which lost its season opener in the final minutes to rival Riverside High School. Freedom hosts Riverside on September 1 in South Riding.
"We have a sophomore quarterback and a new backfield, so we're pretty young," Calderon said. "But our expectations are to go further into the playoffs than last year."
Scoring:
1Q 4:00 H Brett Johnson to Jared Vaughn for 12-yard TD pass (Henriquez PAT)
2Q 10:29 H Alejandro Calderon for 2-yard TD run (PAT failed)
3Q 6:07 H Bryan Henriquez for 27-yard FG
4Q 9:05 H Alexander Kovacs for 11-yard TD pass (2pt failed)