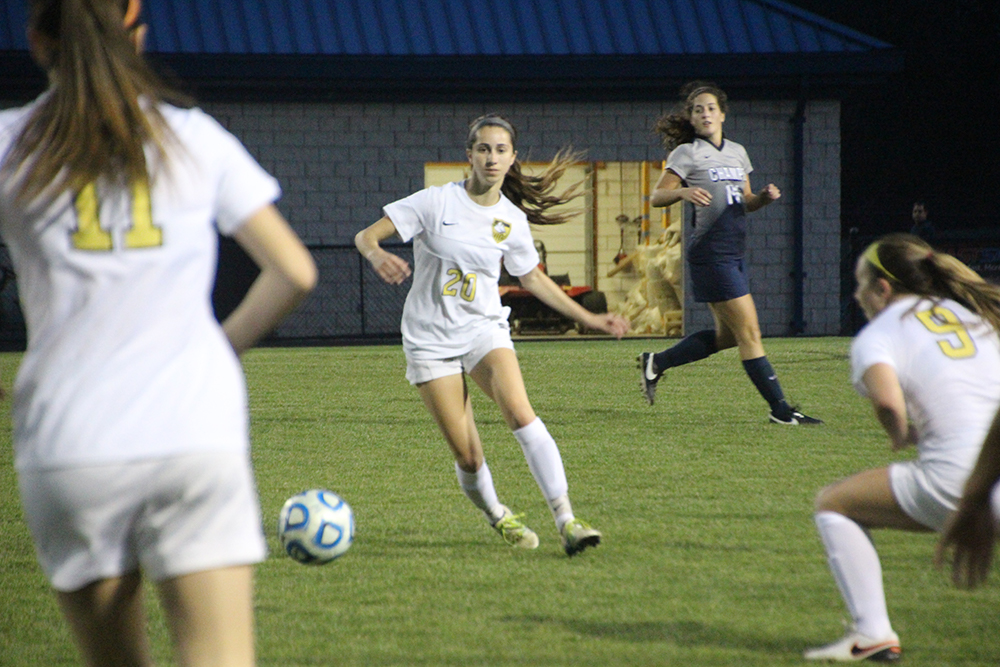 By Jennifer Skinner
LoCoSports Contributor
[twitter-follow screen_name='JLPSkinner']
South Riding (May 17, 2017) — On a cool Monday evening in the town of South Riding in Loudoun County, Virginia, the hometown Freedom High School Eagles girls varsity soccer team prepared themselves for one of the most challenging contests of the season. They were set to play two-time defending state champion Loudoun County High School – a squad comprised of numerous players who had already committed to playing college soccer for universities around the country.  For one student-athlete on the Freedom team, facing a seemingly insurmountable task like this was all too familiar.
The early symptoms
At 14-years-old, Freedom junior forward Frankie Moore was in the best shape of her life and had begun playing soccer on a highly competitive Elite Club National League team. Soon after earning a spot on the team, Frankie experienced a sudden onslaught of strange, debilitating symptoms. She suffered extreme exercise intolerance when playing soccer for her new team. She complained of stomach and joint pain and was having trouble swallowing. She was suddenly so weak and dizzy that she couldn't even climb a flight of stairs.
The diagnosis
After four months of doctor visits and evaluations, Frankie was diagnosed with Postural Orthostatic Tachycardia Syndrome — POTS.
According to Dysautonomia International, POTS is a condition in which a change from the supine position to an upright position causes an increase in heart rate of 30 beats per minute or more. Symptoms can include a drop in blood pressure upon standing, fatigue, heart palpitations, dizziness, shortness of breath, nausea and cognitive issues.
By the time of her diagnosis, Frankie's inability to keep up with her training schedule and perform on the soccer field as she had done previously resulted in her removal from the elite team, knocking her down a level in the sport.
This was devastating to Frankie and as her symptoms persisted, her routine and the life she had before changed dramatically. She lost weight, missed school and many mornings was unable to get out of bed. It seemed highly unlikely that she would ever step foot on a soccer field again.
The gratefulness
Still, Frankie was determined and set her mind to doing everything she could to get back to the level of play she had worked so hard to achieve.  Of course, she had many days full of discouragement, questioning "Why did this happen to me?"
What Frankie eventually realized was that she was fortunate in many ways. Her case of POTS was not nearly as severe as it could be. She understood that some POTS patients simply would never be able to get their bodies to cooperate with what their minds and their will wanted them to do. She knew that many kids suffered so greatly that they couldn't even lift their heads.
With that in mind, she resolved that she could not take anything for granted. She knew she had to give it a shot to prove to herself — and to encourage other patients — that depending on the severity of the individual conditions, there just might be light at the end of the tunnel.
The determination
For Frankie, luckily, there was hope that she could return to an active life. She had to push herself harder than she ever had and became committed to embracing a rigid schedule of medication and nutrition. Most difficult of all — due to the fact that her stamina and strength had been virtually depleted — Frankie devoted herself to working out more than ever.
The efficacy of her treatment coupled with her determination and hard work, allowed her to continue playing soccer for the next two years even though she still was not feeling 100%.
She could have easily given up. But that was not an option for her.
With an enthusiastic focus on getting herself back to playing at the highest level of competitive soccer, Frankie stepped into a new normal, always being mindful of arranging her medication, diet and workout schedule around her soccer commitments so that she could play as often as her body would possibly allow.
The big game
Today, at 17-years-old, while Frankie still experiences symptoms of POTS, they are milder than before. She has made her way back to performing at the level she did before her diagnosis and has regained her spot on that elite travel soccer team and the varsity soccer team at Freedom High School.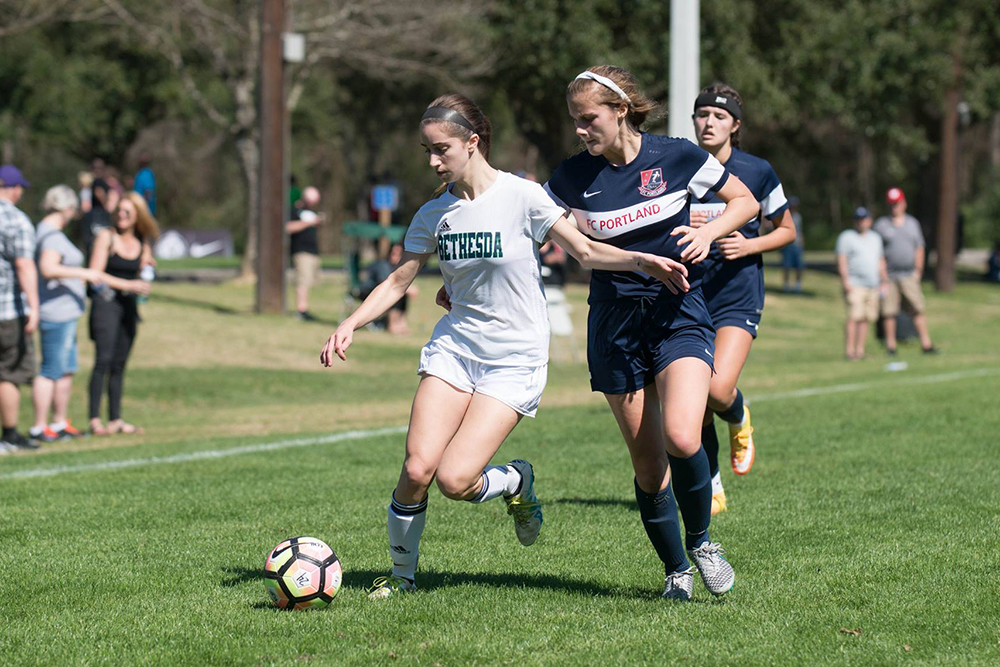 During the aforementioned May 8 clash against Loudoun County, the Eagles and Lady Raiders battled for 80 minutes on the pitch with the scoreboard showing 0-0 for the majority of the game.
With only 10 minutes left, the one and only goal of the game was scored. As the fans held their collective breath, time ran out. Final score: Freedom 1, two-time defending state champion Loudoun County 0.
That one goal? It came at the hands, or the foot, if you will, of a girl who only three short years ago wondered if she'd ever play soccer again. Frankie Moore sent the ball into the net and along with her team, she celebrated upsetting the two-time defending state champion to the surprise of everyone in attendance.
Well, except maybe for Frankie, who knows that in her case, a commitment to not taking anything for granted, a dedication to her medical treatment, and a focus on hard work can result in victories that are greater than the brightest lights that any scoreboard could ever display.
Jennifer Skinner is a mom of three baseball-playing boys, a writer, and friend of the Moore family. Her writing on parenting, sports, faith and finding extraordinary blessings in an ordinary day can be found on her blog, The View from Behind Home Plate.