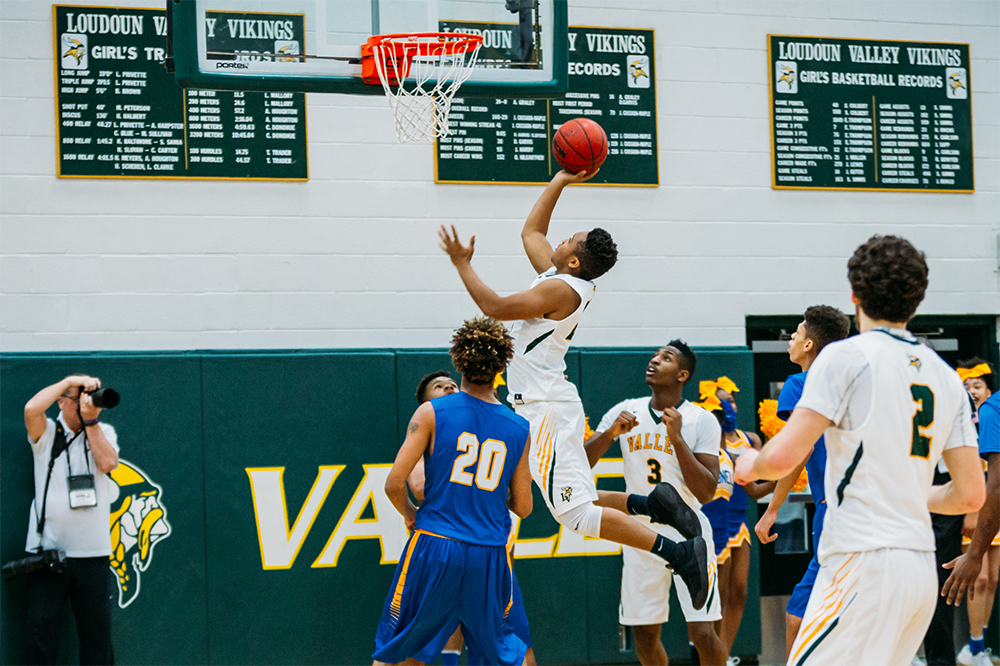 By Curtis Atkinson
LoCoSports Contributor
[twitter-follow screen_name='CurtisAtkinson']
Purcellville (February 23, 2017) — "Those who cannot remember the past are condemned to repeat it." – George Santayana
364 days ago, the William Fleming Colonels visited the Loudoun Valley Vikings in the VHSL 4A West region playoffs. The Colonels attempted to use their speed and athleticism to speed up the Vikings in hopes of taking them out of their game. It didn't work then, and it didn't work this year in their VHSL 4A West region semifinal in Purcellville on February 22.

The Vikings are willing to run with anyone and ran away from the Colonels early, finishing them off 74-57 to advance to yet another VHSL 4A West region championship game.
Vikings were facing a little adversity coming into the game on February 22, losing starting guard Jalen Williams to a knee injury in their quarterfinal match up on February 20.
Before the game Vikings' head coach Chad Dawson said he would be looking to a couple seniors to fill the void. They did just that, especially senior forward Jamir Degree, who played extended minutes with Williams out and did a little of everything for Valley with 10 points, 8 rebounds, 3 assists and 3 steals.
"It's irreplaceable," Dawson said of the luxury of plugging a talented senior into the lineup when another player goes down. "He had a phenomenal game and when he's locked in he's a very good player."
Degree talked about his ability to do the little things to help the Vikings win.
"I'm just looking to rebound, score a little bit, take charges and help out on defense with Jalen out," Degree said.
Loudoun Valley senior guard Nick Ball kept it rolling after breaking the 1,000 point barrier a couple nights ago. Ball keyed a quick run by the Vikings in the second quarter with back-to-back threes, finding his stroke from the outside at the perfect time for Valley.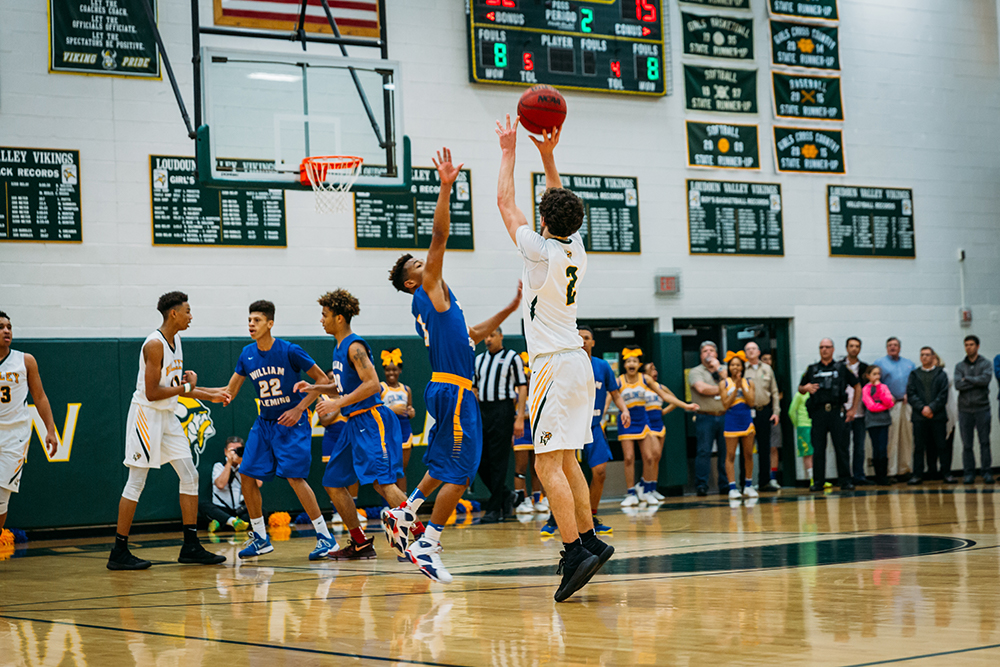 "We had to have everybody step up," Ball said. "We wanted to get stops, get out and run and hit open shots."
Ball took advantage of his open looks on the evening, finishing with three buckets from deep and 21 points – which led the Vikings on the evening – along with junior forward Jordan Miller, who poured in 21 as well.
Miller couldn't quite get in the same rhythm he did while going for a career-high 36 in the region quarterfinal, but still managed a "quiet" 21, despite battling a little foul trouble early in the second half.
Loudoun Valley will now move on to face John Handley High School in the 4A West regional championship on February 24. Handley comes in with a 25-1 record and will look to pull the upset over the top-seeded Vikings.