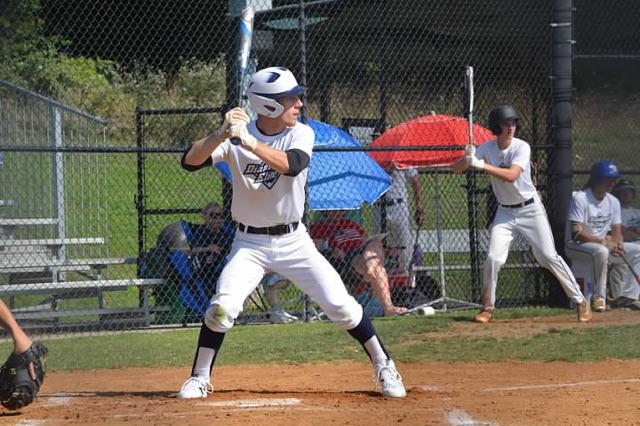 By Chloe Adam
LoCoSports Staff Writer
[twitter-follow screen_name='ChloeMAdam31′]
Leesburg (January 265, 2017) – Tuscarora High School senior Ben Knuff has made a commitment to continue his baseball career at Division III Greensboro College in Greensboro, North Carolina starting in the spring of 2018.
"I had always wanted to go to school in North Carolina and loved the Greensboro area," Knuff said. "When I had the opportunity to play at Greensboro College, I knew I had to take advantage of it!"
Knuff has played baseball from a young age and has loved every minute of it. Knuff plays travel baseball for Diamond Elite, known for their premier baseball and softball teams.
"When I was four or five, my father signed me up for t-ball, and since that day I have never looked back," said Knuff. "I am a very competitive person and baseball gives me the chance to be competitive, but also teaches me how to be calm and relaxed in high intensity situations. It is the one sport that no matter what part of the game I am doing at that moment I am fully enjoying it. No matter what is going on in my life, once I step on the baseball field my mind is completely cleared, free of stress, which is why I love the game so much."
At 5-foot-10, Knuff plays outfield for Tuscarora High School varsity baseball, who welcomed Cole Shain as their new head coach for the upcoming spring season. Shain is taking the reins from Mark Bauer, who stepped down at the conclusion of the 2016 season to spend more time with his family.
"I didn't know what to think at first, but as soon as I met coach Shain I knew it was going to be a great season," said Knuff, who has played for Tuscarora since his freshman year. "We immediately formed a great relationship and he has shown me and the rest of the Tuscarora team how great of a coach he can be, as well as how good of a guy he is, which makes me even more excited to get out on the field and get the season started."
The Leesburg-native is excited to play for the Division III Pride.
"I will be able to bring my competitive nature and be able to push my teammates to always work hard and want to get better," Knuff said.  "Also, my positive energy will create a great attitude for the team and myself."
The Huskies will open their 2017 season in a home game versus Thomas A. Edison High School on March 15, 2017.