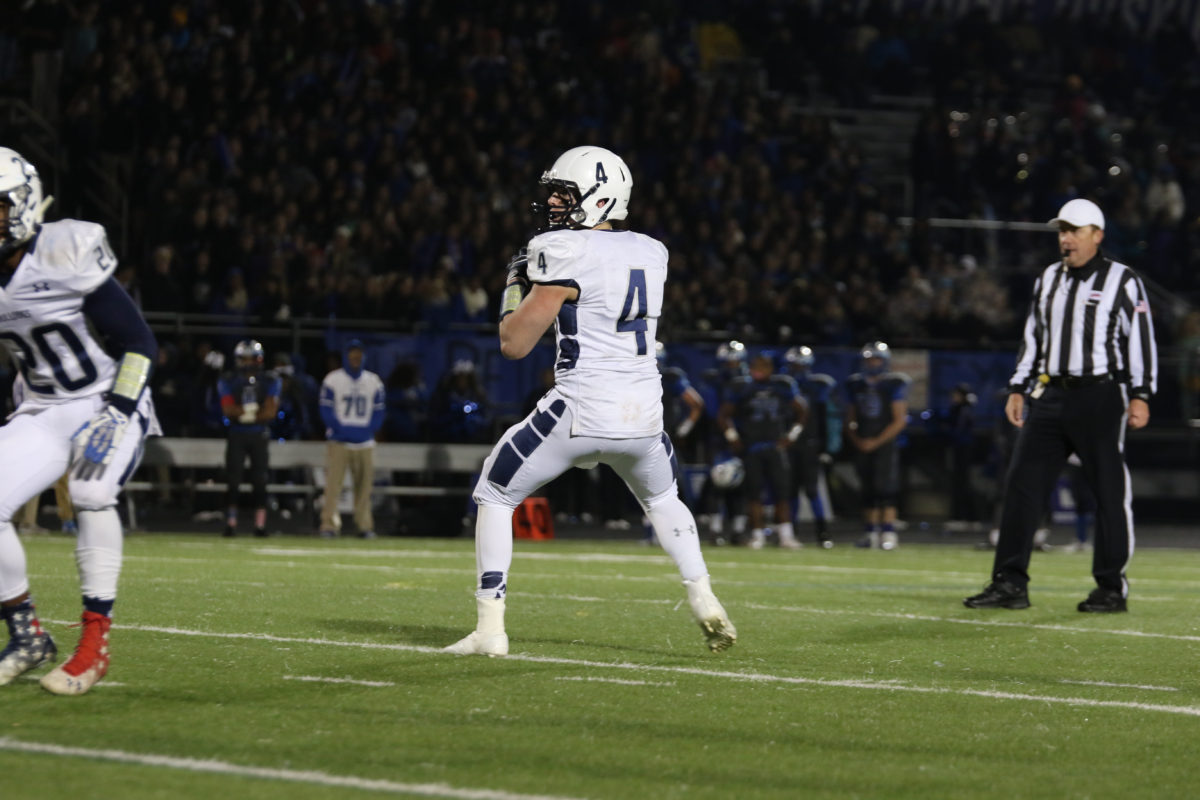 By Owen Gotimer
LoCoSports Editor-in-Chief
[twitter-follow screen_name='LoCoSports']
Charlottesville (December 13, 2015) — On October 23, the Stone Bridge High School football team got on a bus headed from Leesburg to Ashburn sitting at 4-4 after a tough loss to new local powerhouse Tuscarora High School. Six weeks – and six straight wins – later the Bulldogs redeemed themselves, knocking off the Huskies in a basketball-scoring affair in the VHSL 5A North region championship earning Stone Bridge a trip to a VHSL state championship for the first time since 2012.
Unfortunately for the No. 5 Bulldogs – who throughout the playoffs upset No. 4 Broad Run, No. 2 Tuscarora and No. 1 Massaponax – their magic ran out in the VHSL 5A state championship game as they fell to Highland Springs High School, 27-7, in Charlottesville on December 12.
"This is one of the best groups I've ever coached. It was my son's senior year, and it really couldn't have been a better year," Stone Bridge head coach Mickey Thompson said. "Except for this moment right now, this is the most fun I've ever had coaching."
Senior quarterback Joe Thompson led the high-powered Bulldog offense which averaged just over 30 points per game and before the 27-7 state championship loss was held to seven points only one other time this fall.
"Stone Bridge is a great team," Highland Springs junior quarterback Juwan Carter said. "But we never let up on them."
For the first time since 1961, Carter – along with senior receivers Greg Dortch and K'Von Wallace – helped the Springers to a VHSL state championship win.
On the game's opening drive, Dortch – who along with Wallace played both ways for the Springers – intercepted Thompson in the end zone giving Highland Springs momentum and senior running back DJ Anderson the opportunity to rumble 61 yards down the field for the game's first score.
"We got that interception and stopped them. That was a major turning point in the game," Highland Springs head coach Loren Johnson said. "There were times where our offensive had turnovers, and our defense stepped up to the challenge. I know for a fact that I have the best defensive coordinator in the state of Virginia. He did an excellent job."
Springers (14-1) defensive coordinator Devon Simmons and his defense allowed only seven points against the Bulldogs (10-5) who had averaged 47 points in the postseason coming into the state championship. Those seven points came by way of a 1-yard touchdown run by Stone Bridge senior receiver Chase Ridley following a muffed punt he recovered just three plays earlier.
After that Stone Bridge score, three big offensive plays by Highland Springs – a 22-yard touchdown pass to Wallace, a 55-yard touchdown pass to Wallace and a 64-yard touchdown run by Dortch – wore down the Bulldog defense which held the Springers to their third lowest scoring total of the season.
"Initially, we were playing great defense. We kept them from making too many big plays," Mickey Thompson said. "If we could have ever got anything going on offense, I think we could have turned it around."
As the clock wound down, Highland Springs lined up in victory formation before sending in junior defensive tackle Brandon Lambert into the backfield. Lambert – a Springers captain – spent over a month during the summer in the hospital after suffering a heat stroke in an offseason practice.
Instead of simply taking a knee on the snap, the Highland Springs quarterback turned around and handed the ball to Lambert who took the final knee of the Springers season.
"This feeling is great for our community, our fans, our players, our school. It's ridiculous. This feeling is overwhelming right now," Johnson said. "We marked this day a long time ago as a special day for our program, our school and our community, and I'm just grateful we had the opportunity to finish our job today."
Scoring Plays:
1Q 8:26 HS DJ Anderson 61-yard TD run (Ellis PAT)
2Q 8:48 SB Chase Ridley 1-yard TD run (Alcorn PAT)
2Q 3:56 HS Juwan Carter to K'Von Wallace 22-yard TD pass (PAT failed)
3Q 6:01 HS Juwan Carter to K'Von Wallace 55-yard TD pass (2pt good)
4Q 11:44 HS Greg Dortch 64-yard TD run (PAT failed)