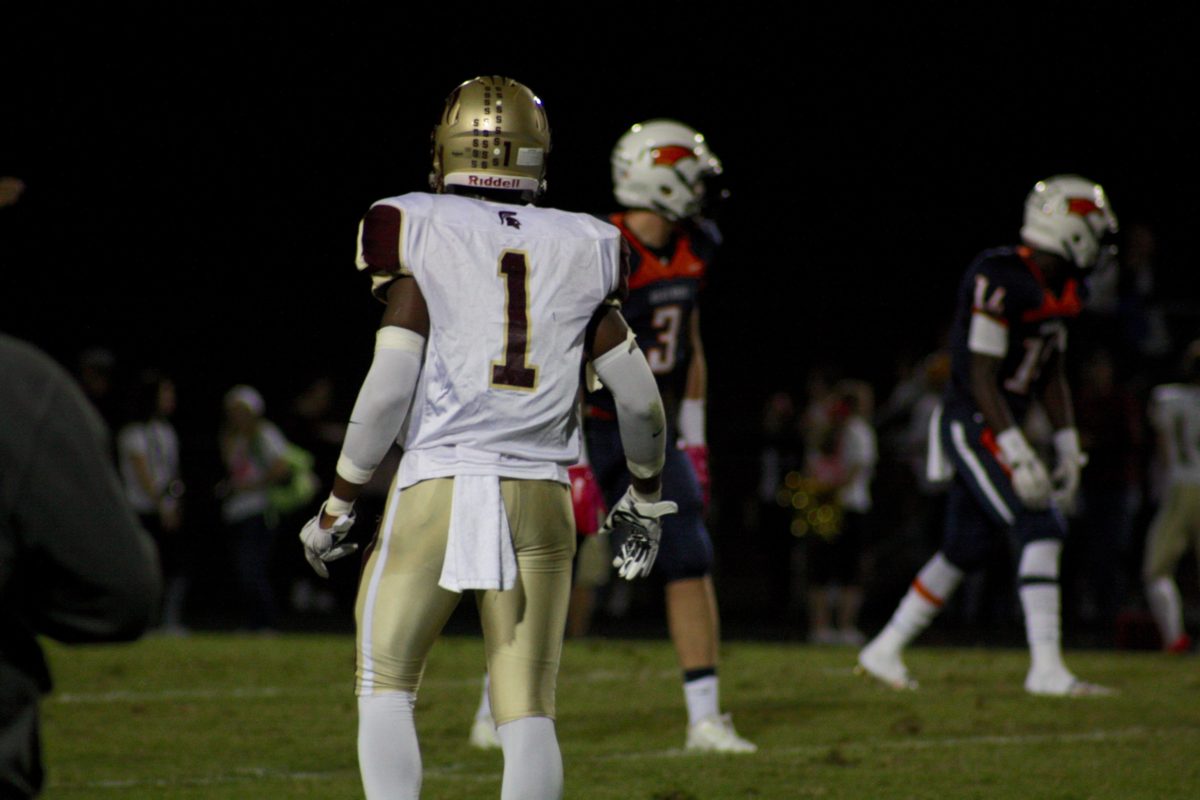 By Kyle Gotimer
LoCoSports Managing Editor
[twitter-follow screen_name='KyleGotimer42′]
Ashburn (September 28, 2015) — Nearly six months ago, Ashburn fell victim to the loss of Madison Small: a beloved friend, teammate and classmate. On Friday night, September 25, two Ashburn teams met to play a game in her honor. Broad Run – Small's school – came out on top beating crosstown rival Briar Woods, 31-24.
Before the game, the stadium fell quiet for a moment of silence in respect to the Small family.
Broad Run – backed by their Maroon Crew – took advantage of their first drive scoring the game's first touchdown and jumping out to a 7-0 lead.
"Our quarterback came out throwing and that was a big deal," Broad Run head coach Matt Griffis said. "Brickerd is so good with his own read, and he throws the ball so well. I mean he threw some darts tonight, and I really impressed by him with that."
Although Broad Run junior quarterback Kyle Brickerd only passed for one touchdown on the night, he kept the offense calm and collected in such a chaotic game.
"He's really evolving as a quarterback," Griffis said. "I'm proud of where he's at right now."
Briar Woods scored all three of their touchdowns on the ground. Falcon sophomore Bradley Block broke away in the first half for a 29-yard touchdown run, putting his team on the board and tying the game, 7-7.
After only two scoring drives each – resulting in one touchdown and one field goal for each team – the Ashburn teams headed into the locker room for their halftime chats, tied 10-10.
After halftime, Briar Woods (1-4) continued to force the ball deep into the red zone and scored two more late-game touchdowns: one on a 2-yard rush by senior running back Takiyul Johnson and the other by senior quarterback D'Andre Thomas on a 1-yard rush.
But the difference in the game might have been that Broad Run (5-0) was able to score from both the air and the ground. Despite only scoring one touchdown in the first half, the Spartans forced opportunities in the second half with a quick paced offense.
Early in the third quarter, Brickerd connected with senior running back Clyde Bryson for a 27-yard touchdown pass giving Broad Run a 17-10 lead; Broad Run junior running back Meech Hembry then scored twice late in the fourth quarter adding to their cushion.
"[Hembry] performed great. He runs the ball hard, he's hard to take down, you've got to gang tackle him. He's got the ability to break tackles and the explosion also," Griffis said. "I think the O-line did a great job. It's gonna take those guys to help him out."
After a Broad Run punt landed on the Briar Woods' 3-yard line – and the Spartans forced and recovered a fumble – Hembry scored from 4-yard line.
Again the Broad Run defense forced a Briar Woods' punt, however, unfortunately for them, Hembry misread the punt and it bounced off his helmet and back into Briar Woods' possession. But the Spartans forced another turnover giving Hembry a chance to make up for his mistake.
"It was inspirational. I knew I had to make a big play," Hembry said. "The line executed as always, and we got the job done."
Hembry broke away on his next carry from Broad Run territory and scored the touchdown that sealed the deal: Broad Run 31, Briar Woods 24.
"Our kids trusted the process and continued to play Broad Run football: tenacious defense and a good job securing the ball on offense," Griffis said. "Our quarterback made some key throws and our O-line did a good job and our defense did tremendous. Our special teams did great, I'm very proud of them."
On October 2, the Spartans will enjoy a bye week, while the Falcons host Lee High School for their homecoming football game!
Scoring Plays:
1Q 3:00 BR Kyle Brickerd 1-yard TD run (Sherman PAT)
2Q 8:20 BW Bradley Block 29-yard TD run (Moreno PAT)
2Q 4:59 BR Will Sherman 22-yard FG
2Q 0:09 BW Edgar Moreno 31-yard FG
3Q 9:07 BR Kyle Brickerd to Clyde Bryson 27-yard TD pass (Sherman PAT)
4Q 11:56 BW Takiyul Johnson 2-yard TD run (Moreno PAT)
4Q 8:30 BR Meech Hembry 4-yard TD run (Sherman PAT)
4Q 5:00 BR Meech Hembry 56-yard TD run (Sherman PAT)
4Q 2:21 BW D'Andre Thomas 1-yard TD run (Moreno PAT)